Mike Wasserleben
General Manager
Mike Wasserleben is the General Manager of the Coliseum Sports Complex. Mike graduated from Temple University in 2017 with a Bachelor's Degree in Sport and Recreation Management. After graduation, Mike became the General Manager of The Sportsplex at Warminster for two years before coming aboard with the Coliseum Sports Complex. He currently coaches JV baseball and basketball at William Tennent High School where he graduated in 2013.
Jake Schuster
Assistant Program Manager/Instructor
Jake Schuster was a 3-year varsity letter winner at North Penn High School, 2015 State champion. 6-year starter at Marywood University. Jake holds the school records for Hits, Runs, Walks, RBIs, Doubles, Home Runs, an top 3 in all time batting average, OBP, and Slugging. Jake was a 3x 1st team All-Conference, 3x All region team, 2018 1st team All American Player. He won the 2022 Atlantic East Player of the Year. 1 season played in the ACBL for the Allentown Railers. Played travel ball for KC baseball for 8 years. Played 1 season of Hatfield Legion Baseball. Played 1 season for the Philly Whiz Kids. 
Jake was the Head coach for KC Baseball for two seasons, 15/16u and 17u. 2-year Assistant Coach for Scranton Preparatory High School. Ran a 4-week camp for Electric City Baseball and Softball, Ages from 6-11.
Jake can also give baseball, softball and golf lessons here at the Coliseum.
Baseball/Softball Instructors
Domonic Brown
Instructor
Domonic Brown was selected in the 20th round of the 2006 Major League Baseball Draft by the Philadelphia Phillies. He played a couple years in the minor leagues before he got called up to the MLB for the Phillies on July 28th, 2010, after Shane Victorino went down with an injury.
In 2013, Domonic Brown was the starting left fielder for the Philadelphia Phillies and won the National League Player of the Week award back-to-back weeks (May 20th - June 2nd). He was award NL Player of the Month for May and was selected as a reserve for the 2013 All-Star Game!
Chuck Bushbeck
Instructor
Coach Chuck was raised in Philadelphia and attended Father Judge High School where he excelled in football, baseball, & soccer. His senior year, after breaking the modern day field goal record for Philadelphia High Schools in the "All Star" game, Chuck was awarded a full 4-year scholarship to Villanova University. While at Villanova, He was nominated as "Pre-Season All-American" and was thought to be on the verge of re-writing the school's record books. Then, in 1981, Villanova decided to drop its intercollegiate football program and Bushbeck was recruited to East Carolina University.
Bushbeck spent 11 years as a professional associate scout for the LA Angels. He was featured as Comcast's MVP (2006) for his work with inner-city baseball youth & has been featured on ABC Health watch for his expertise in pitching performance & keeping pitching arms safe.
Check out Chuck's bio by clicking here.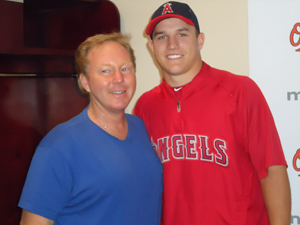 Cindy Rabideau
Instructor
A lifetime lover of competitive sports, Cindy Rabideau has extensive experience as an athlete, coach,
and working with student athletes. Her most recent experience is as the University of the Sciences
(Philadelphia) Women's Softball Team coach where she led the team to the CACC Conference Playoffs.
She ended her career at USciences as the all-time winningest coach. Cindy has over 15 years of
experience working with student athletes as an NCAA Athletic Compliance Officer and softball coach.
Hence, she is well versed in NCAA rules and regulations. Her love of sports led her to take a part-time
job on the Philadelphia Phillies grounds crew. As an athlete herself, Cindy understands the hard work
necessary to achieve success. She was an All-American in both softball and soccer and was inducted to
the Athletic Hall of Fame at both her high school and Mitchell College. She has a Bachelor's Degree in
Organizational Leadership from Philadelphia University. Cindy specializes in emphasizing the
fundamentals (both offense and defense) and looks forward to helping young athletes meet athletic
goals.
Carli Cutler
Instructor (6th graders and younger only)
Carli Cutler is in her first season as an assistant coach for the Saint Joseph's softball program in 2022-23. Cutler came to Saint Joseph's after spending the past season as an assistant coach at Nicholls State. While with the Colonels, Cutler served as the pitching coach, and helped Brittany Turner finish in the top-10 of the Southland Conference in wins, complete games and innings pitched.
 
Prior to Nicholls State, Cutler served as a graduate assistant at Fresno State for the 2021 season. While a member of the Bulldogs' staff, she helped the program capture the Mountain West championship and compete in the NCAA Tournament. Working with the pitching staff, Cutler helped Fresno State lead the conference in ERA (1.99), strikeouts (365), and opposing batting average (.225), while guiding Hailey Dolcini to Mountain West Pitcher of the Year and an NFCA All-Region Pitcher honors. 
 
A four-year starter at UConn, Cutler was twice named an American Athletic Conference All-Conference honoree and garnered AAC All-Rookie accolades as a freshman. Earning a bachelor's degree in sport management, the versatile student-athlete that pitched and started at the hot corner, she helped the Huskies to the program's best start in 20 years as a senior captain in 2020.
Deon Stafford Jr.
Instructor
Deon has played five seasons of professional baseball as a catcher. Drafted by the Pittsburgh Pirates in the fifth round in 2017 and was voted an all-star three times in minor league baseball. Ranked the 22nd best prospect and best Defensive Catcher by Baseball America in the Pirates' farm system in 2019. I had the honor of playing three seasons of college baseball at St. Joseph's University in Philadelphia, Pennsylvania from 2015-17. Earned Freshman All-American Honors and All Conference as a freshman in 2015. Was voted Atlantic-10 Player of the Year as a sophomore and was all American in 2016. Voted Atlantic-10 All-Conference as a junior in 2017 and played for the Cape Cod League's Yarmouth-Dennis Red Sox.
Rayn Gibson
Instructor
Rayn Gibson received her Bachelor of Art Degree in Psychology with a Health and Wellness Minor from Binghamton University. She also received a Full Athletic Scholarship to Play Division 1 Softball at Binghamton University and was a Five-Year Starter.
Rayn was named 2nd Team All-Conference in the America East, America East All-Rookie team and 3X America East Pitcher of the Week. She currently ranks sixth all time in program history with 319 career strikeouts and ranks sixth all time in program history with 29 victories.
Rayn set a record 500+ strikeouts in 3 years at Bel Air High School, was a four-year All-County selection, Named All-Metro twice by the Baltimore Sun and was inducted into the Churchville Lightning class of 2022 Hall of Fame.
Rayn was the Assistant Coach at Division 2 Mansfield University 2021-2022 season.
Rayn is a skilled instructor available for Pitching, Hitting and Defense Lessons.
Emily Oltman
Instructor
Emily Oltman played for Delco Chaos Gold and Perkiomen Valley in High School. She then continued on to play college softball at Rider University. At PV she was a four-year letterwinner with 440 career strikeouts in 416.2 innings, 2 Time First Team All-Conference, 2 Time All Area First Team, Player of the Week Award and 2 Time Honorable Mention All-State. She was also a three-year varsity letterwinner for volleyball as a middle hitter in high school. At Rider she made a team-high 31 appearances and 17 starts in the circle as a Freshman. As a sophomore made 27 appearances in the circle, including 21 starts, struck out a team-high 91 batters in 103.1 innings pitched. Appeared in 18 games and was a MAAC All-Academic team honoree as a junior. She graduated in 2020 where her season was cut short due to COVID.
Mark Jackson
Instructor
Mark Jackson had a highly successful career as a head collegiate baseball coach achieving a winning percentage of .700 and an overall record of 762-362. During his 24 years as a head coach his teams accomplished the following; won 13 league championships, two Big East titles, advanced to the World Series 6 times (finishing third twice), ranked in the top 30 programs in the nation 11 times (7 top 10 rankings) and set national winning streak records of 37 and 41 games. His career began as a teacher and the head varsity coach at Malvern Prep where his teams won two Inter-Ac titles in three seasons with an overall 56-14 record. Most of his college coaching was in Pittsburgh directing the Point Park University program (12 years) and the University of Pittsburgh team (7 years). While at Pitt his teams won the only two Big East Championships in school history. Coach Jackson has been giving lessons to players of all ages in all areas of the game throughout his career. The lessons place a strong emphasis on simplified mechanics and he provides drills to improve performance. Jackson also helps players with a game plan to identify and maximize their strengths in a game. There is also an emphasis on a positive mental approach to enhance confidence and concentration in order to improve game performance. Jackson received his Master's from Temple University in Sport Psychology
Larry Pijanowski
Instructor
Played at North Penn High School, won league and district 1 championships.
Received a baseball scholarship to Rollins College in Winter Park Florida.
Inducted into the North Penn's All- Sports Hall of Fame (Football & Baseball) and the NP Baseball Hall of Fame
Bachelor Degree from Rollins College:
 4-year starter in the outfield and made All Conference and All –South honors
 Held records for most career hits and most hits in a single season
 Career batting average of over .330
 Played in the College World Series and batted over .400
Coaching Experience:
 Includes all levels from Little League up through Legion baseball and HS travel baseball
 Head Coach - Perkiomen Legion - League Championships in 2016 and 2017
 Head Coach - Lansdale Cannoneers Legion - playoffs in 2019
MBA from DeSales University
Marketing Professional for medical devices
Chris Kirsch
Instructor
Chris is a native of Newtown Square, PA and attended Marple Newtown High School, where he was a First team All-Delco and First Team All Southeastern PA selection as well as the 2010 Delaware County Cakey Dougherty Award Winner. He played 2 years at Lackawanna College where in his sophomore season compiled a record of 10-1 with a 1.80 era, 101 strikeouts while scattering 38 hits in 70 innings. At Lackawanna, he was a first team All-Region XIX selection, elected as that region's player of the year. He was also a First Team All-American and a NJCAA Pitcher of the week after throwing a No-Hitter. He was a 3x MLB amateur draft selection. Pittsburgh Pirates in 2010 (13th Rd.), St, Louis Cardinals in 2011 (21st Rd.), and Tampa Bay Rays in 2012 (14th Rd.) He played 7 years in the Tampa Bay Rays Organization where he made it all the way to Double-A before injuries derailed his career. Over that span, he compiled a record of 32-28 with a career era of 3.45 while being elected a 2x All-Star and 2x Pitcher of the week.
Eddie Brown
Instructor
Eddie Brown is in his sixth year at Villanova University, serving as Assistant Baseball Coach.
Recruiting Coordinator
Hitting Coach
Infield Coach
Has had five players picked in the MLB First Year Player Draft
Previously:
Wagner College Assistant Baseball Coach from 2012-2016
Recruiting Coordinator
Hitting Coach
Infield/ Outfield Coach
Had four players picked in the MLB First Year Player Draft
Paige Toothaker
Instructor
Paige Toothaker played at St. Thomas Aquinas College as a left-handed pitcher where she contributed to the best season in program history during her senior year with 18 appearances and a 1.93 ERA, leading the team to the ECC championship game in 2021. She received Pitcher of the Week, All-Conference honors and was a member of the Student-Athlete Advisory Committee. Prior to college, Paige played for the Concord Raiders Softball Organization in Concord, Massachusetts. In 2017, at Oakmont Regional High School, Paige led the team to its first ever undefeated season as team captain. She finished the year with a 22-1 record, recorded a 0.58 ERA with 203 strikeouts, batted .338, and received the league MVP award.
Paige has prior experience as a 14U travel ball coach with the Raiders and leads group practices, along with individual pitching, hitting, and fielding lessons.
Currently, Paige is a graduate student at the Institute for Graduate Clinical Psychology at Widener University.
Mark Aquilante
Instructor
Devon Preparatory School Head Coach for past 14 seasons
Won 5 PIAA District I championships in 14 seasons
Won the PIAA State Baseball Championship in 2014 and 2019 
Devon Prep was named "Team of the Year" by the Philadelphia Inquirer in 2014.
Chosen "Coach of the Year" by the Daily Local News in 2014 and 2019.
Has seen more than 35 players go on to play at the college level including schools at all three levels (D1,D2,D3).
Had two former players drafted into MLB over the past ten years.
Stephanie Aurello
Instructor
Stephanie Aurello played at Mount Saint Joseph's Academy in Flourtown as a four year varsity starter, on the softball field Stephanie's positions included catcher as well as third baseman. She also played soccer and basketball throughout her high school career.
Stephaine went on to coach her alma mater during grad school then moved on to coach varsity softball at Germantown Friends School where her team had their first undefeated season followed up with their first championship. While at GFS Stephanie also coached middle school soccer and basketball while an assistant 5th grade teacher. Stephanie graduated from Drexel University in 2011 with her masters in Sport Management and has continued playing rec league softball and flag football in local leagues